DOTTIE'S ART STUDIO SUMMER CAMPS
"Animals Art Camp"
July 9-12, 2018
Art Show July 15th at 6 PM
Age 5 - 7: 9 - 11
Age 8-12: 12 - 2
Age 8-12: 3 - 5
Age 8-12: 6-8 PM (new this year)
Kids will learn how to draw animals and complete a special project

"The Great Outdoors Camp"
July 16-19, 2018
Art Show July 22nd at 6 PM
Age 5 - 7 9 - 11
Age 8-12: 12 - 2
Age 8-12: 3 - 5
Age 8-12: 6-8 PM (new this year)
Kids will learn the basic foundations of art, such as perspective, shading, and explore different mediums and techniques!
Teen Art Camps explained below!
JUST ADDED!
ART CAMP FOR TEENS!
July 23 - 26, 2018
Art Show July 29, 6 PM
$100 per camp; [$85 until April 30th.] Teens only
Intermediate level classes
Here's your opportunity to take your skills to the next level! Great for students who want to target a specific technique.
10 AM - 12 Noon
Watercolor Camp
Take your watercolor skills to the next level! The entire week will we be working on watercolor techniques and painting with landscapes and floral subject matter. Students should finish two paintings during the week!

1 PM - 3 PM
Figure sketching Camp
Here is a chance to improve your figure drawing skills! Students will work from a live model on sketching with pencil, charcoal, and ink throughout the week!

5 PM - 7 PM
Acrylic Portraiture Camp
Take your acrylic painting skills to the next level by exploring portraiture with acrylic paints! Students will work from a photo to complete a portrait!


​Before April 30th $85
May 1 - June 30th $100
After July 1st $120
All supplies included ​​

​WINE & CHEESE PAINT NITE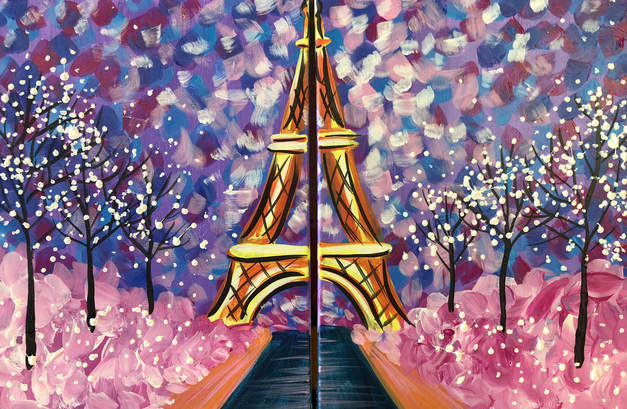 Tuesday, April 24th 6:30 PM
Wine & Cheese by TCC Plainfield
24104 West Lockport St

Dottie will be at Wine & Cheese by TCC Plainfield to help you enjoy an evening of wine and creativity! Bring a friend and paint a pair of beautiful "Paris in Spring" canvases. Each person paints their own painting to hang together or you can paint one to hang on its own. The event is $100 per couple and includes instruction, all painting supplies, our Chef's Cheese & Charcuterie Board and a bottle of House Wine.

OR enjoy a relaxing evening out with friends and paint your own painting! Tickets are $35 per person and include instruction and all paint supplies.

Space is limited so prepaid reservations are requested by April 22nd.
email Dottie at dottiesartstudio@gmail.com

​PAINT YOUR PET
Friday, April 27th, 6:30 PM
Dottie's Art Studio

​From a picture of your pet, I will guide you through the process of creating your original portrait of your pet. Coffee, water and freshly popped popcorn will be provided, along with all paper goods (including wine cups and opener)...and of course all of the artsy stuff! Bring with you whatever else you would like to eat or drink for a relaxing evening. (MUST be 21 to bring/drink alcohol). Must preregister by April 23rd; Cost is $45 per person; Min 8 required
​
​MOMMY & ME (under construction!)
Saturday, June 16, 11 AM
Dottie's Art Studio
​Eiffel Tower (picture under construction!)
Two canvases to hang side-by-side to complete the picture.
Come to the studio and create a memory with your young artist! I'll provide everything you need, including water, coffee and freshly popped pop corn! You are welcome to bring anything else along with you that you would like to snack on or drink-with the exception of alcohol. Reservation required. Cost is $35/adult and $25/student.

​BECOME A MEMBER OF DOTTIE'S ART STUDIO!
Become a member of Dottie's Art Studio and here's what you get!
Exclusive classes opened up to members only first! You get to attend four classes of your choice throughout the year! You get to attend a class during the month of your birthday! You get $5 off any other classes you attend throughout the year! And you get a free t-shirt!! Cost for a membership is $150. To become a member today, email dottiesartstudio@gmail.com