Painting Parties

"Dottie fit right in with my family and friends with her friendly and welcoming nature. She does not just own a wine/paint studio but she is a bonafide artist. My friend Gerry who has done 3 other such parties said Dottie was the best and my niece Linda appreciated Dottie's individual attention. We had a great time and my painting is already on a wall in my bedroom. Can't wait to do another party or art class with her. Thank you, Dottie, for making this a memorable experience for us."- Dorothy Spiczak

"My mom and I with my two girls really enjoyed our mommie and me class. I loved the atmosphere and Dottie makes you feel right at home. Highly recommend!"- Adriana Mrizek

"I had my bachelorette party at Dottie's studio this past weekend. From the moment we walked in she was nothing but warm and welcoming. The painting was so much fun that my friends and I are already planning to go again. Highly recommend going to Dottie's!"-Krysta O'Connor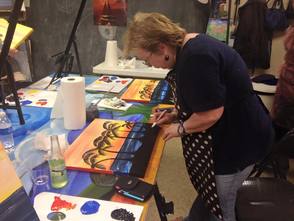 Create a great memory while creating a masterpiece! My Painting Parties will bring about a lot of laughs and new discoveries! It is a great time for birthday celebrations, work parties, bachelorette parties, girls' night out, couples' night out, etc.
---
Adult Painting Parties
Parties at the studio can hold a maximum of 18 people. Public and Private Parties are available. Coffee, water and freshly popped pop corn will be provided, along with all paper goods (including wine cups and opener)...and of course all of the artsy stuff! Our "Port & Palette" parties are a fun combination allowing you to bring with you whatever else you would like to eat or drink for a relaxing evening. (MUST be 21 to bring/drink alcohol). This makes it an affordable party tailored to your taste! Visit the "Pick A Painting" page to view and choose your painting. Parties last about two and a half hours...3 hours max.

We also offer offsite parties....call to inquire about details.

Call to inquire about your party date 815-302-3339 or email DottiesArtStudio@gmail.com
Reservations can be paid with credit card using our PayPal system on this page
or with a check made payable to Dottie's Art Studio.
Kid's Birthday Parties
You can also book your child's birthday party at Dottie's Art Studio for a memorable time!!
*All supplies included and Parties last 3 hours.
*During the party, "Partiers" will paint their own masterpiece to hang on their wall when the get home to remember their day!
*Birthday group gets their faces painted.
*Water and coffee will be provided.
​*Guest artists are allowed to bring in their own cake and any other food or refreshments they so desire.

Birthday Parties are $30/Child (Minimum 10/Maximum 18).
Call 815.302.3339 or use the PayPal button below to reserve your date.